Recently, some self-media have labeled Tickmill as "the cheapest in the network", trying to challenge the established broker IC Markets, Xiaobian, which has always been famous for its low transaction costs. Xiaobian is also quite curious about this. After all, every trader is looking for a low-cost and reliable platform. Today, we will comprehensively evaluate who is more worthy of your choice.
Strength background
Let's start with the development timeline to see the strength of the two platforms background.
IC Markets was born in 2007 in Sydney, Australia, in 2009 to obtain the ASIC regulatory license, can be said to be the industry's older brokers. After 14 years of development, whether from the user scale, trading volume or regulatory qualifications, now IC Markets can be said to be the head of the foreign exchange broker, and so far has not been subject to regulatory penalties.
While Tickmill (Seychelles) was established in 2014, in 2015 began to take over the foreign exchange brokerage business of Estonian broker Armada Markets, Tickmill UK in 2016 only to obtain the regulatory license of the UK FCA. In terms of regulatory penalties, Tickmill was also blacklisted by the Malaysian Securities Commission at the end of 2020 for engaging in illegal financial trading activities. From the perspective of development history, Tickmill seems to be still shallow seniority, we will then compare from the scale, cost and other dimensions of horizontal.
In addition, occasionally see the exchange of friends arguing about the UK FCA and Australia ASIC which is more stringent, in fact, for traders in mainland China, the two temporarily only support the opening of Seychelles accounts, regulatory effectiveness are the same, as for the FCA and ASIC which is more powerful argument is actually meaningless.
Trading volume
According to the industry report data published by the world's leading industry media Finance Magnates, IC Markets continues to defend its title as the world's largest broker in terms of trading volume, in the third quarter of 2020 report, IC Markets average monthly trading volume reached $815 billion, March 2021 even reached more than a trillion dollars trading volume. Tickmill trading volume of 126 billion, and IC Markets trading volume of only 15%. Exchange users are well aware of how important liquidity is to forex trading, and high volume usually means better market depth and relatively low transaction costs, which is especially important for traders with large capital, and can even be considered as a core indicator.
Access to and out of the fund
Both companies support the basic mainstream gold channels, including wire transfer, visa/master card, PayPal and so on. At present, there are more channels supported by IC Markets.
IC Markets users can choose UnionPay deposit, which is more commonly used by mainland users, and test the UnionPay deposit of IC during non-holiday periods within three working days. The advantage of this is that it does not have to occupy personal foreign exchange quota, which is convenient for Chinese traders who do not have overseas cash access channels.
Tickmill stopped UnionPay in early 2020.
It is also worth mentioning that in order to take care of Chinese users, IC Markets has opened additional access to USDT, which gives it a more simple and efficient choice.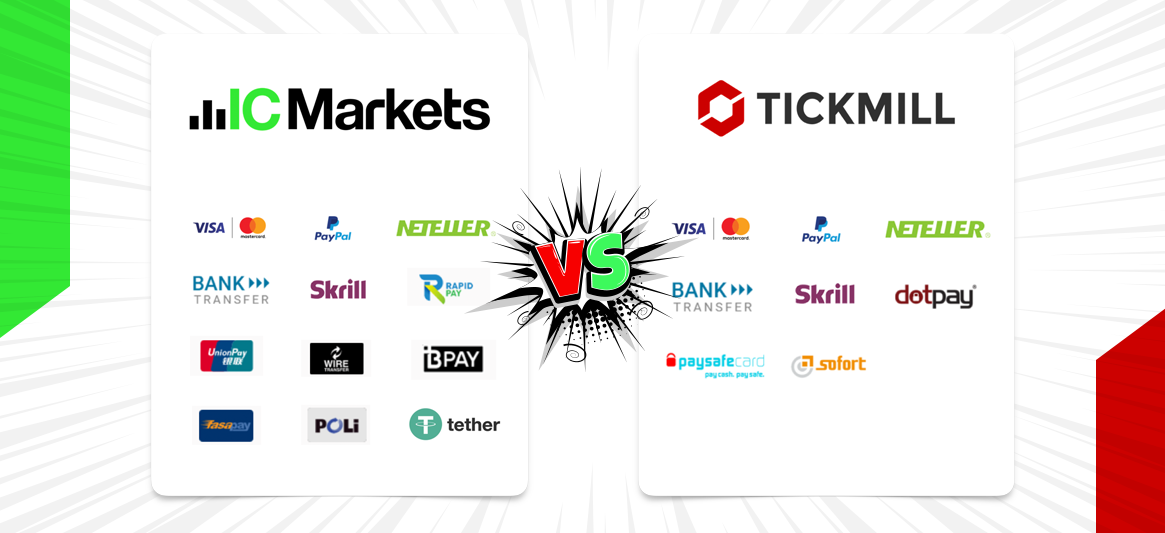 Trading product category
After making a horizontal comparison between the two traders, we found that, IC Markets outperformed Tickmill in the number of stock indices, bonds and commodities except that the basic 60-odd foreign exchange currency pairs were on a par with gold and silver.
IC also owns as many as 1600 additional stock CFD, 13 cryptocurrency CFD and several global futures, making IC Markets impeccable in terms of the diversity of tradable products.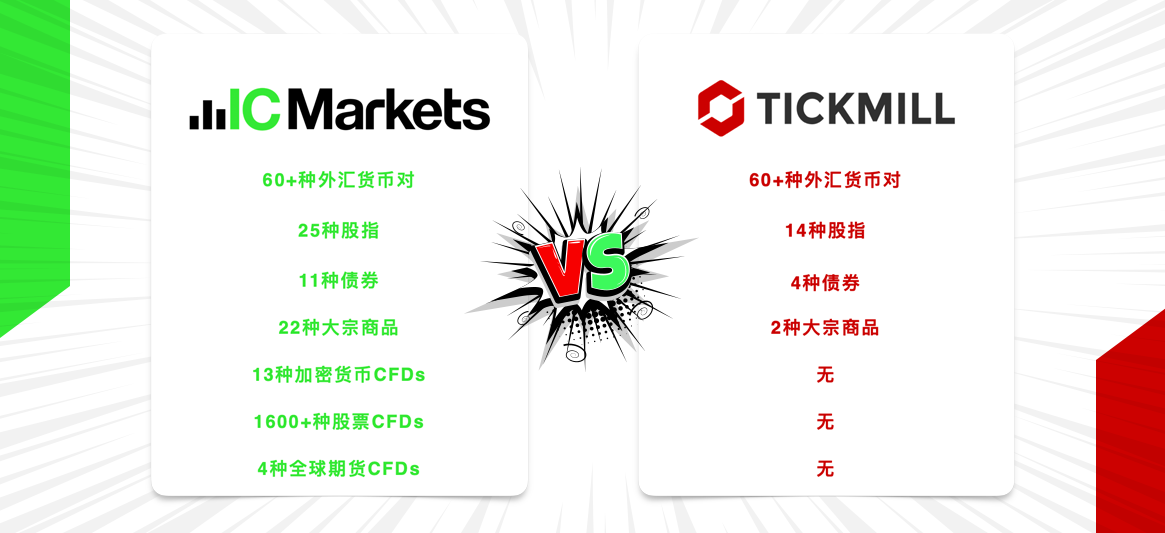 Cost assessment
ROUND 1 handling fee Tickmill wins.
In this round, we will evaluate the transaction costs of the two platforms from the dimensions of spread, handling fee, overnight fee and preferential policy.
Here we only compare the two account types with the lowest spread, namely, the original spread account of IC Markets and the professional account of Tickmill:
The handling fee for IC Markets is a fixed one-hand sale of $7, but IC Markets can open a discount account for customers with a deposit of more than $2000, and the transaction fee for a discount account can be reduced from $7 to $6.
The Tickmill fee is four points of the base currency, such as the pound per dollar on the first hand of the transaction, and the handling fee is £4, which translates to $5.70.
Although Tickmill's poundage calculation method is quite special, but at present, the poundage is lower than IC Markets.
ROUND 2 points difference IC Markets wins (7:0)
But we need to know that transaction costs are not limited to fees, so in mid-June we did 245 data monitoring of six currency pairs and gold and crude oil products common on the two platforms, and the final results are as follows: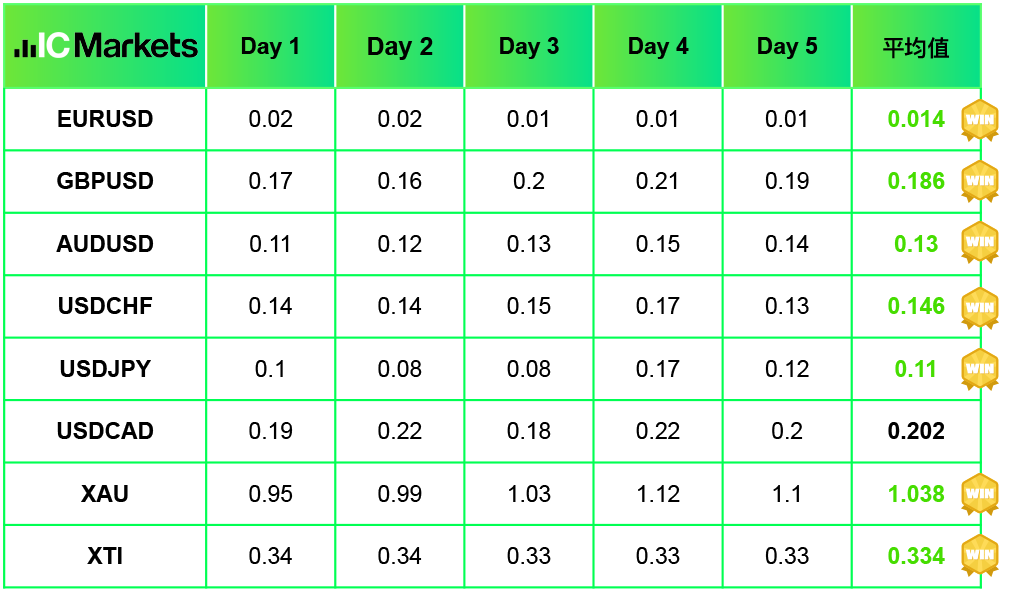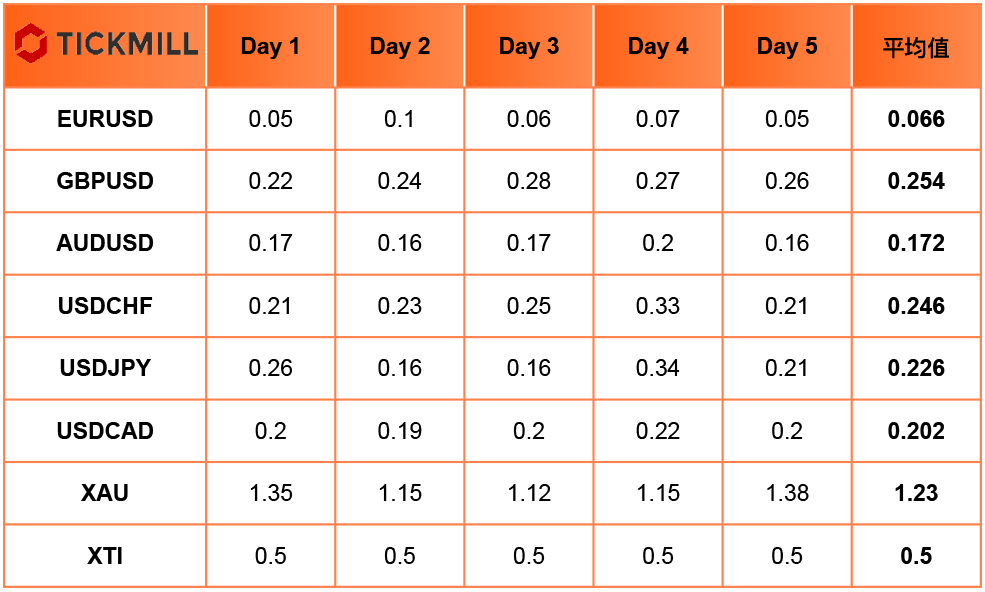 As shown in the figure, Tickmill's spread is indeed industry-leading, but it is not comparable to IC Markets, but the advantage lies in lower fees.
We calculate the spread cost overlay fee and obtain the unilateral delivery cost of 8 products on the two platforms. in the end, the transaction cost of IC Markets is still generally lower than that of Tickmill.
ROUND 3 overnight fee IC Markets wins (4:3)
In addition to fees and spreads, overnight fees are also a cost we must consider, especially for swing and long term players. We randomly compared several common trading products, including currency pairs, indices and precious metals, and the overnight fee is basically a tie, with IC winning slightly. However, Tickmill does not trade digital currency CFDs and nearly 1,000 types of stock CFDs like the IC Markes platform, so there is no data on this part of the market to compare.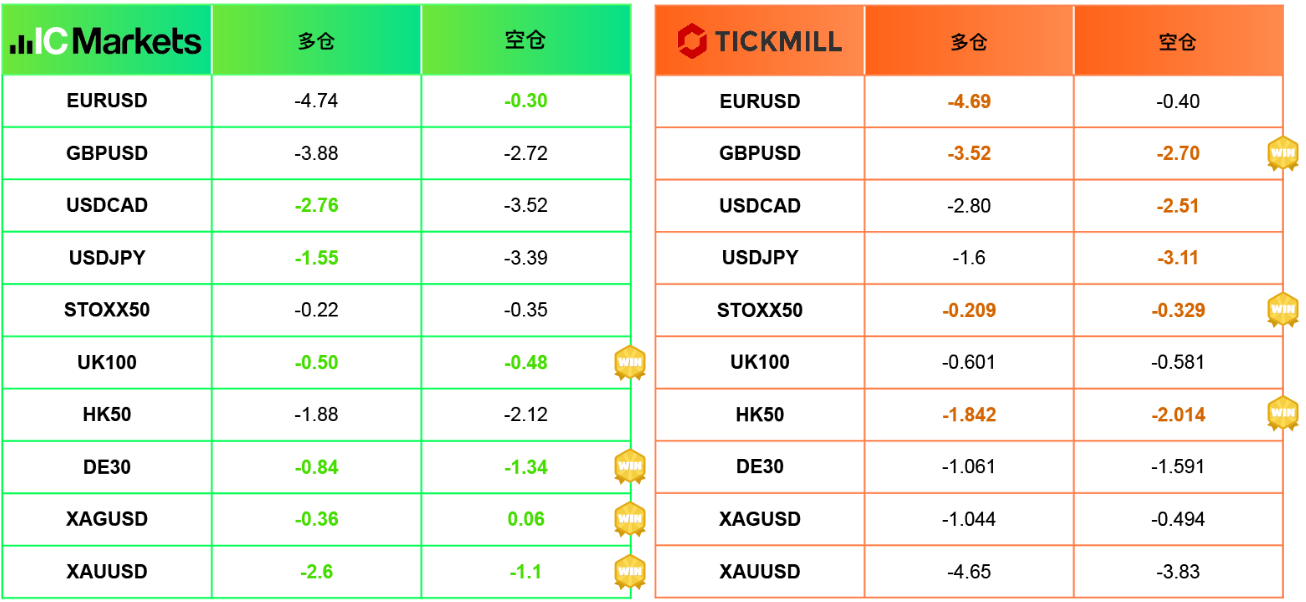 Of course, in addition to spread costs and commissions, there are also trading restrictions and server stability aspects that need to be taken into account to achieve a smooth and perfect order. As for what to choose between the two platforms, please trust your own judgment.